Companies in Navteq's location-based services contest showcase their apps
Navteq provides maps used for navigation in devices that support GPS, including mobile phones by Nokia, Samsung and LG.
In imbX conference and exhibition, at its booth Navteq featured the winner of a contest the company held to showcase location-based services.
Navitime was awarded winner of the Navteq LBS challenge in this picture. The company's winning application is a GPS-guided multi-modal navigation application that provides maps for 7 major transportation modes: walking, driving, trains, subways, buses, taxis and commercial air-flights.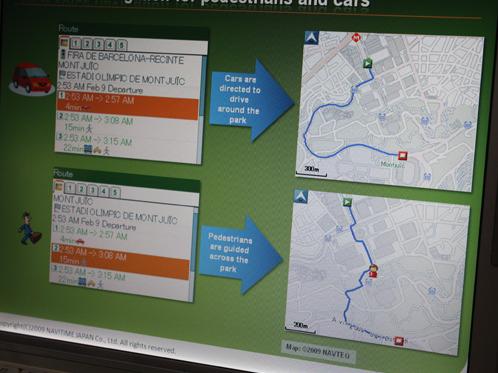 Two routes are featured in this picture: by car (top) and walking (bottom)." The application always maps the shortest route for the user. For example, the picture shows how the map guides users via the 'walking route' to cut through a landmark, while drivers were shown a detour" said by Hiroshi Sasaki, an executive with Navitime's LBS planning and marketing business division.
Another unqiue feature in the Navitime application is able calculate carbon (CO2) emission and taking this into consideration, maps the routes that are least exposed to CO2, according to Sasaki.
The application offers a low-cost means for mobile users to broadcast live video feeds to the Web, and at the same time, show the user's location on the map.
Another contestant of Navteq's contest, TourSpot, came up with an application that combines a GPS enabled city guide and social networking features. The tool features location-based search capabilities and live mapping, allowing users to tour cities without having to carry a paper map or street directory.
Inquire Now