Product Name:
LED flashlight for mobile charger
Product ID:
KK
MOQ:
100pcs
Product Introduce:
Li-ion battery LED Flashlight
mobile phone emergency charger

————————————————————————————————————————————————————
Product Specification: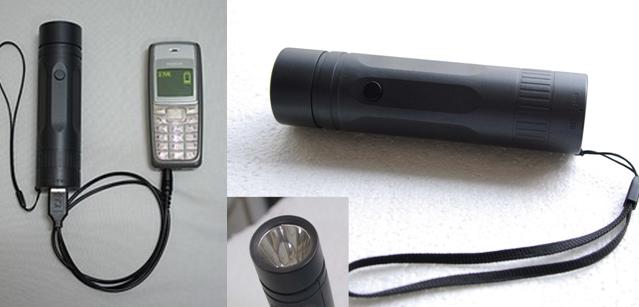 Key Specification:
The portable LED Flashlingt with 1600 mAh battery and with the function of USB charger of mobile phone. It is designed specially for foreign market.
more information:
it is a flashlight with multi- function (with emergency charge interface),Built –in 1600 mAh High-capacity rechargeable lithium polymer battery. Not only a 1W flashlight ,but also can charge for the mobile phone , Digital Camera,PDA,MP3,MP4 and so on digital product at any time and any place. We can use AC adapter to charge the built in battery ;the product is simple and beauty,novel and unique ,fashion and easy to carry. It is good product for personal using and gift for friend.
Product specification:
1、The built-in high-capacity rechargeable lithium polymer battery of the flashlight:1600mAh;
2、Nominal output voltage :5.6V;
3、Nominal output current :500mA;
4、The time that the emergency charger flashlight charge for the mobile phone should be:about 80 minute(there will be different for different brand and model);
5、The time that the AC adapter charge the emergency charger flashlight should be about 2 hours( according to different phone line) ;
6、Dimention(length*width *high):7.3×3.1×3.3cm .
  
  This product applies to the following product to charge
Mobile phone(The Standard configuration with Nokia, Samsung, Motorola, LG, Sony Ericsson, and other mini-USB connector),digital camera、PDA、 MP3、MP4. Efficient charging,if you charge you mobile phone for 100 minutes,the mobile phone can talk about 180-300 minutes or more than 72 hours Standby time.
Contact us clik here
Back to China Electronics Manufacturer.
Related Products:
Leave a Reply