Product Name:
GPS mobile phone for kids KK Q9
Product ID:
KK Q9
MOQ:
1000pcs
Product Introduce:
GPS, Kids mobile phone
Low RF, Characteristic Picture frame, two-band

————————————————————————————————————————————————————
China Mobile Phone Specification: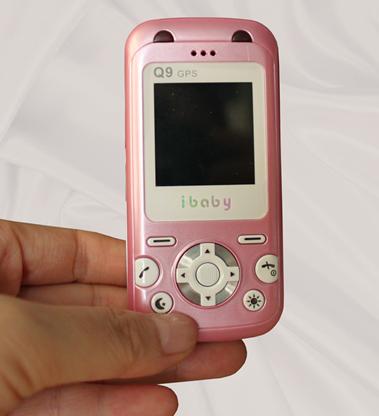 Key Specification about GPS mobile phone for kids KK Q9:
GPS Position Tracking,Speedy Dialing,Smart Emergency Calling,Low RF,Puzzle games,Characteristic Picture frame
More Information about GPS mobile phone for kids KK Q9:
*.GSM900/1800 or GSM850/1900
*.Firewall protection:In the Operating Mode of Children, all strangers' calling & SMS should be Stopped of receiving.
*.Air Monitoring: You can air-switch-on it to monitor what they are doing & where to go in case of the phone switched-off.
*.Restricted use in Class: A restricted use can be done in the periods of class to avoid interruption;
*.Smart Emergence Calling:In case of emergency, the children should press the SOS key to call those nearest 4 numbers pre-set in phone alternately.
*.Restriction for calling time:The legal guardians can set a time-limit for children to avoid too long talking & save the money.
*.Low RF & Smart Alert: A sharp light will alert you constantly when the RF signal in very high level and to choose your calling in lower level.
Contact us clik here.
Back to China Electronics Manufacturer.
Related Products:
Inquire Now