Product Name:
Bamboo-slips style cooling pad for laptop
Product ID:
KK
MOQ:
1000pcs
Product Introduce:
cooling pad for laptop
Bamboo-slips style

————————————————————————————————————————————————————
China Gadgets Specification: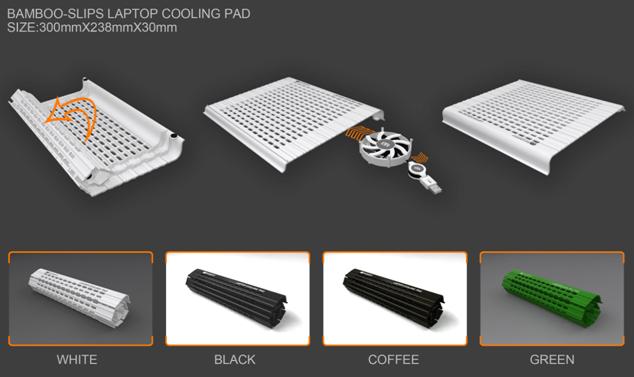 More Information about Bamboo-slips style cooling pad for laptop:
Design philosophy:
this cooling pad model create superior cool sense with fully "Chinese taste" design base on ancient china civilization of "Bamboo-slips".
Product feature:
◎Culture meanings: "Bamboo-slips" philosophy fully combined with Chinese taste
◎Freely carry: can be folded and rolled up quite convenience
◎Creative design concept: fan and pad can be freely remove and join
◎Agility for use: fan can be installed in pad anywhere you want for your preference or convenience, two fans installation is also available.
◎Support standard: idea for 10"-14" laptop
◎Thoughtful design: hide with cable in the fan base and with USB slot "secret"
◎ "T" module pin: fan USB plug with A to B pin by T module, still remains one USB slot while use another USB slot
Specification:
◎Unfold Size: 248mm*300mm*29mm
◎Pad net weight: 320g(exclude fan)
◎Fan net weight: 50g
◎Fan size: 107 mm *94 mm *21mm
◎Rated voltage: 5V DC
◎Rated currency: 0.15±10%A
◎Input power: 0.75W
◎Fan Rotating Speed: 2500±10%RPM
◎Max Input Air: 42.35CFM
◎Bearing Type:Hudro Bearing
Welcome to the OEM order.
Contact us clik here.
Back to China Electronics Manufacturer.
Related Products:
None
Inquire Now